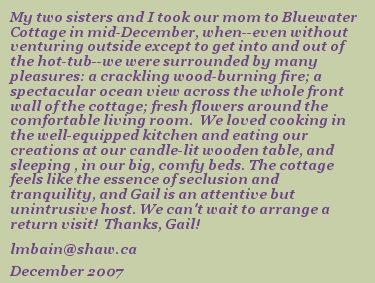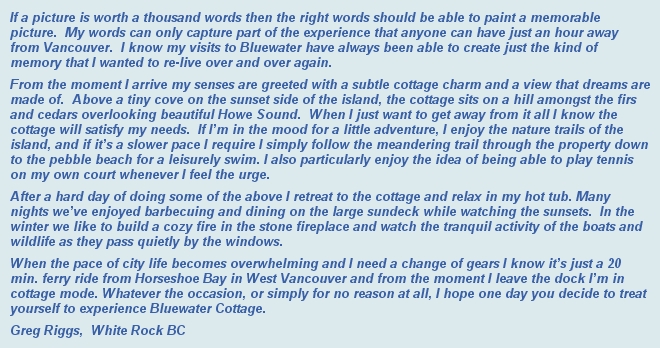 What some of our guests have to say about Bluewater Cottage

*****

Flipkey, Trip-Adviser & Air BnB

Courtney, BC, Canaada September 2018

***** Amazing honeymoon

Everything about this place is absolutely perfect. It has everything one could need for their stay. Just bring your food and you're set. We chose Gail's cottage as our honeymoon destination, and couldn't be happier. The fact that we were able to bring our dog along made our trip that much more enjoyable. The place was spotless upon our arrival, which was a great start. The bed was comfortable, and the living room was so cozy, especially with the wood burning fireplace. Finally, words cannot describe the view well enough. Absolutely stunning. Watching the sun go down from the hot tub every night was the most magical way to end each day there. We've stayed in a few places along the Sunshine Coast, and decided to give Bowen Island a try this time. We were not disappointed! This has been our best trip yet. I can't say enough good things about this place. Thank you for an amazing honeymoon, Gail!

Matt - September 2018

***** Amazing cottage with a very thoughtful host. We will be coming back 100%

Yvette 1111604 - Vancouver, Canada

***** Marvelous!!!

Left on Nov 1, 2017 for a stay in Oct 2017

This was our second year booking with Gail and we will definitely return. The cabin is set up beautifully and the view is magnificent. Perfect gateway for all occasions.

Traci T. Vancouver, Canada

*****Amazing Weekend Getaway

Left on Oct 11, 2017 for a stay in Oct 2017

Our favourite place on Bowen Island. If you need to relax, get some peace and quiet while enjoying an incredible view, this is the place.

***** Best weekend ever!

 Left on Jun 5, 2017 for a stay in May 2017

The cottage is in a Great Location, equipped with an awesome deck and hot tub. Every night we watched the beautiful mountain sunsets whilst enjoying a beverage. . . from the hot tub! What else do you need? So good we have already reserved again.

Jacquie F

***** A little piece of Heaven on earth

Left on Apr 18, 2017 for a stay in Apr 2017

A breath-taking location with amazing, unobstructed views of the ocean, scattered islands, beautiful sunsets, and Nanaimo in the distance. My first reaction as I walked on the deck was "WOW". The view overlooking the ocean is magnificent. The beach is a short 5 minute stroll down a path by a large stream with the sound of rushing water and mini waterfalls. You are overcome with a sense of peace and tranquility walking around the property and the cottage is well equipped, comfortable, and homey. Gail, the owner, is awesome and extremely helpful. This was my first time staying at Bluewater Cottage; I will be back for sure!

Yvette - Vancouver, Canada

***** Visitor

Left on Nov 1, 2016 for a stay in Oct 2016

Beautiful cabin, excellent accommodation and communication with the owner. Highly recommend this place for relaxation, scenery and hikes. Thank you!!!

Devvy - September 2018

***** Gail's cabin is the perfect Bowen get away, private and a view that keeps you out on the deck all day, did not want to leave. Gail is a wonderful host and happy to share her Bowen story and the history of her book, which we loved, if you are looking for a great escape, this is the place you want to stay!

Mike, BC Canada September 2018

***** Heaven on Earth

My wife and i stayed here for 3 days to celebrate my 50th birthday. If you are looking for a place that is completely tranquil with an amazing view, look no further. Imagine being out on a deck overlooking the Pacific ocean with islands in the foreground and the only sounds are those of waves lapping against the shore and the occasional deer wandering by. The bed in the front bedroom overlooking the water was super comfortable (and i have a bad back) and the kitchen was fully equipped. We planned on eating out each day otjer than breaksfast bit quickly changed to meals at the cottage because the view and serenity are second to none. Cant say enough good things about this stay or the hosts attentiveness and responsiveness. Definitely planning to come back and stay again. 3 nights felt like 2 weeks worth of relaxation! Love Bowen and love this cottage!!

globetrotter42France

Florida

***** We never wanted to leave!

Left on Oct 25, 2016 for a stay in Oct 2016

Where should I start? On arrival, the first thing you see is the view. And what a view! They built a multi-tiered deck to give guests the best possible experience (thank you!). The second thing we noticed was the hot tub, which we enjoyed rain or shine. Third was proximity to hiking, which was less than 5 minutes away and no need to drive there. Indoors is very comfortable and large windows allow you to enjoy the view even when indoors. The kitchen may not have a dishwasher but it is stocked with all manner of herbs and spices and condiments that you might want or wish for while staying. The fireplace is no longer operational but it has been replaced by a gas unit, like the BBQ, both of which came in handy when power went out during a wind storm (that's October in the Lower Mainland). Gail provided us with plenty of candles and we carried on as if nothing happened. Power came on a few hours later and we barely noticed. I would book this place again in a second.

BCJet-setter

***** Everything we were hoping for!

Left on May 23, 2014 for a stay in May 2014

2 people found this review helpful

We had a wonderful stay at the Bluewater Cottage. It was just as advertised and how others have previously described. Our stay was peaceful, quiet and so relaxing. The cottage itself is spacious, bright, homey and very welcoming. The large enclosed wrap-around deck and short distance to the beach were perfect for our dogs. The ocean views were breathtaking and hot tub was enjoyed each night while watching the sunset. We had good communication with the owner. She was very accommodating and available if we had any questions. We hope to come backagain and would recommend.

emachine24

Chicago, Illinois

***** Amazingly Beautiful Getaway

Left on Aug 8, 2016 for a stay in Aug 2016

Highly reccomend this charming cottage with spectacular views of the water and sunsets. The host was very accommodating and hospitable. Also enjoyed the island restaurants and kayaking excursion.

Vancouver, April 2018 

***** Relaxation and rejuvenation at Bluewater Cottage

My girlfriend and our dog had a lovely stay at Bluewater Cottage. The moment we arrived a deep feeling of relaxation and enjoyment and love for quite and beautiful nature washed over you. Everything and I do mean everything we need was found at the Cottage (kitchen supplies, flashlights, powerbar for computer, everything save food). When the weather was rainy (about half the time we were there) we enjoyed watching eagles hunting on the ocean, the beautiful view from the enormous deck and warming up by the fire. When the weather was sunny, we enjoyed hiking to the beach, watching ducks dive as a group of about twenty all at the same time, the eventually stunning, beautiful and long sunset, and the beauty of the stars at night. Gibsons glowed serenely on the horizon each night across the water from the cottage regardless of the weather. My favorite line from our time there that my girlfriend kept saying again and again was, "Listen to how quiet it is".

Vancouver

***** The perfect getaway!

Left on Sep 18, 2012 for a stay in Aug 2012

1 people found this review helpful

Bluewater Cottage is our weekend getaway when we are in need of peace, quiet, fun and relaxation. The views are perfection, the cabin is beautifully maintained and spotless and the private, clean hot tub with a view the icing on the cake. It takes about 5 minutes to embrace the Bowen Island lifestyle. The cabin has everything that you could possibly need which makes every moment you spend there stress free. Last trip we discovered that yoga on the patio was a perfect way to end the evenings. We have visited 5 times over the past couple of years and we will be back many more! Thank you!

BC August 2012

***** A Place of Beauty, Serenity, Peace and Relaxation

3 people found this review helpful

As there's a maximum word count, I'm going to put most of my review in point form: - peaceful, tranquil, beautiful - spectacular sunsets with blazing orange skies –1000 square feet inside and 1000 square feet or wraparound decking outside and a jacuzzi. - two well-separated bedrooms and two full bathrooms - use of the tennis court which also overlooks the ocean and is only used by the owners - access to a path that leads down the hill to a lovely little beach with wonderful swimming - gracious hosts who are there for you if you have any questions or concerns but who will otherwise happily leave you to your peace and privacy - Bowen is so close, yet worlds away. We're back home downtown in 50 minutes! Amazing. This means less cost in gas and ferries too. - For this price, it's good value. Truly an incomparable value and experience. - If you can't relax at Bluewater, you can't relax anywhere. This is a magical, serene, beautiful place where you're tucked away at the bottom of a dead end street. Nothing but the sound of surf and sea birds, sheer heaven. We tried it years ago and have gone back every summer since! It will pull you back again and again. We'll be back again. Gale and Allan are wonderful hosts and passionate about where they live. We've stayed on Vancouver Island and the Sunshine Coast and never had anything like this for the price! We've had and will continue to make many memories at Bluewater. This is truly a very healing place. Book early as it is popular!

Incredible Vacation Rental on Bowen Island Left on Apr 5, 2018 for a stay in Mar 2018.

Stayed at this Vacation Rental Cottage for 4 nights and could not have been happier! During the booking process and pre-arrival, the Owner was extremely helpful and answered any questions we had promptly. The information they give you before arriving is so helpful! The cottage is about a 15-20 minute drive from the Ferry and very easy to find. The Owners met us when we arrived and quickly gave us the tour. After that, they leave you to your privacy but are located on the property if you needed anything. Their house is far enough away that you feel like you have the entire property to yourself ! The cottage has 2 bedrooms, 2 bathrooms, kitchen and a large living room with huge windows that face the deck and Ocean. And ohhh...that deck! It is a massive tiered, deck area that has an amazing view! Also included is a Hot Tub on the Deck along with deck chairs and a BBQ. The Hot Tub is completely private and an unobstructed view of the Ocean! So relaxing!! A short stroll on a path from the Cottage takes you down to the Ocean and a nice little Beach. Did I mention along that stroll you pass by your own private Tennis Court? Yes, you read that right, you have your own private Tennis Court! Such fun! The cottage has everything you need for a stay and was very clean. Most important to us, is this Cottage is Pet Friendly so we could bring our small dog with us. She loved the grounds and exploring everyday. What makes this place so great, other than the perfect location and gorgeous Cottage, is the Owners. They truly know what they are doing and what guests would like. We will happily return in the near future for sure! Thank you so much for everything Gail and Allan!